Chiropractor
Dustin Ridgway D.C.
I wish I could tell my patients I always wanted to become a chiropractor, but that is not the case. My story involves severe headaches that started in my 20's. The headaches would start in the afternoon and continue into the night and made normal activities a major task if not impossible. After one year of going to different specialists and having test after test run without answers, I became frustrated.
When I was told I needed to take a drug daily in an attempt to lessen the symptoms, I knew I had to find a better answer. My parents brought me to a chiropractor and I will admit I was more than a little nervous at the idea of my neck being adjusted. I was surprised that he was able to quickly find so many points on my neck and upper back that were sore.
Within the first few treatments my headaches started to diminish and after a few weeks became almost non-existent. I was fascinated at how something that appeared so simple, the chiropractic adjustment, could be so powerful and yet so overlooked. From that point forward my goal was to help as many people as possible through natural, safe and effective chiropractic care.
Dr. Ridgway has been in Durango since 2011 and lives with his wife Audrey and their 5 children. He is actively involved in Durango Little League Baseball, Devo, youth soccer, and snow sports. He is also an active member and a Paul Harris Fellow of Durango Day Break Rotary.
---
Academic Profile
1999 Bachelor of Science in Biology from Oklahoma City University
2003 Doctor of Chiropractic from Cleveland Chiropractic
2007 Decompression Certification from Kennedy Decompression Technique
2007 Certified in Class 4 Laser
2007 Active Therapeutic Movement provider
2016 Advanced Certified in Integrated Dry-Needling
Chiropractor
Nathan Schmidt D.C.
The reason I chose to be a chiropractor is simple; It gave me the unique opportunity to dedicate my life to serving others in need. My story in chiropractic began on top of Storm Peak Express in Steamboat, CO when I first received my acceptance into Parker University. My three and a half years in Dallas, TX taught me many valuable lessons while studying basic sciences, neurology, orthopedics, and gaining the skills to be a masterful adjuster.
All of this experience in addition to my bachelors in biology and minor in chemistry earned from East Central University, propelled me into a journey that ultimately landed me here in Durango. After seeing a lifetime of dedication from my father to his patients in my small hometown of Purcell, OK, I knew I wanted to give back as well. At just four months old, I was adopted from Seoul, South Korea and was nurtured into a family full of loving people. This allows myself to fully care about my patients. My love for sports, biking, skiing, kayaking, and being in the great outdoors made this transition easier. My goal is to serve this great community to the best of my abilities and I am honored to do so.
chiropractic assistant
Jill Garcia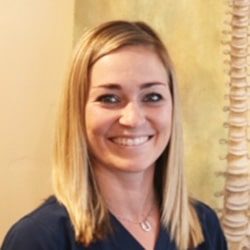 office manager
Ashley Adams
OFFICE HOURS
---
Monday
6:30am - 12:30pm
3:00pm - 5:00pm
---
Tuesday
6:30am - 12:30pm
3:00pm - 5:00pm
---
Wednesday
6:30am - 12:30pm
3:00pm - 5:00pm
---
Thursday*
6:30am - 12:30pm
2:00pm - 4:00pm
---
Friday*
8:00am - 12:00pm
---
Saturday
Closed
*No appointment necessary-walk in clinic*